Provincial Grand Royal Arch Chapter of Angus and Mearns
The History of the Province
Royal Arch Freemasonry has been worked in the Province since around 1765, but it was not until 1861 that our first Grand Superintendent was elected, he was Sir John Ogilvy, Bart, and he was Grand Superintendent from 1861 – 1872. He had no commissioned office-bearers during his term of office.

The first Grand Superintendent to have commissioned office-bearers was Thomas McPherson Bruce Gardyne of Middleton who became Grand Superintendent in 1874. there was at this time 8 Chapters in the Province and they were Enoch No 3, Union No6, Noah No7, Haran No8, Hope No.9, Elijah No12, Strathmore No19 and Horeb No23.
All these Chapter are still active today, but Horeb No.23 is no longer in our Province as it was transferred to Aberdeenshire due to the Province not visiting them for a number of years. They were based in Stonehaven and travelling from Dundee to Stonehaven must have been quite arduous at this time as trains were only starting to come in to the area.

One of his first duties was to officiate at the funeral of the Late Sir Fox Maule Ramsay, 11th Earl of Dalhousie, Past First Grand Principal of Supreme Grand Chapter of Scotland (1869 – 1871). He was also Past Grand Master Mason of Scotland and Provincial Grand Master of Forfarshire.
A historical occasion took place in Arbroath on 21st February 1894 when RAC Hope No9 was reponed. The then Grand Superintendent James Berry, who was also Provincial Grand Master of Forfarshire carried out the ceremony of reponing (sic) the Chapter, he then exalted 116 Brethren into the Chapter, these Brethren having come forward from Lodges, Panmure, St Vigeans and St Thomas.

The Province has had 26 Grand Superintendents since it was consecrated and all have left there mark on the Province one way or another.
James Berry of Union No6 must have to be considered one of the finest Companions to have filled this office, as he held it for 10 years and was also Provincial Grand Master of Forfarshire at the same time. He was also on Supreme Grand Chapter and Grand Lodge Committee's during this time and only relinquished these office's due to ill health.
David Guthrie Sheill, Noah No7, when he was Grand Superintendent drew up the first set of bye-laws for the Province, which was also adopted by the Chapters in the Province.

Andrew L Ross, Enoch No3, was the Grand Superintendent who was presented with the very fine regalia that is worn by the Grand Superintendent even to this day. On his death this was not returned to the Provincial Chapter, his family eventually returned it.
Alexander Low, Union No6, had the unique distinction of exalting the most Companions in the Province in one year, when 1106 Companions were exalted at a cost of 4/- each,(40p).
Dan Carmichael, St David No 164 was the Grand Superintendent that set up the order of business that we still use to this day in the running of the Province.

Over the years some of the Grand Superintendents have represented Royal Arch Freemasonry at the very highest level, reaching the office of Depute First Grand Principal of Scotland. They were MEC William Allan, MEC Robert Bishop, MEC Thomas Frost and MEC Frank Sandilands, and we have at this time MEC William McEwan who is the Immediat Past Depute First Grand Principal of Supreme Grand Chapter of Scotland.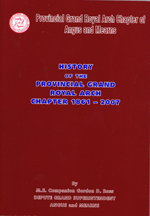 The Provincial Grand Chapter of Angus & Mearns has worked very steadily over the last 150 years and as one of the oldest Provinces in Scotland and with seven of the oldest Chapters in Scotland working in the Province the future looks good and it is hope we will continue to flourish in the years to come.

More information on the history of the Province, this can be found in the book, "History of the Provincial Grand Royal Arch Chapter 1861 – 2007".

M.E.C. Gordon Ross, Immediate Past Grand Superintendant, Angus & Mearns